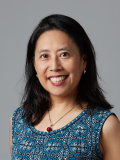 Principal Lecturer (holding the title of Associate Professor of Teaching)
Director, Medical Ethics and Humanities Unit (Clinical School of Medicine)
Assistant Dean (LKS Faculty of Medicine)
Chief, Undergraduate Education, Department of Family Medicine and Primary Care
Julie Chen graduated with a Bachelor of Science (cum laude) degree in chemistry. She earned her Doctor of Medicine at Dalhousie University and completed her residency in Family Medicine at the University of Toronto (Mount Sinai Hospital site). She was selected for membership in the Alpha Omega Alpha Honor Medical Society on the basis of her scholastic achievement, professionalism, leadership capabilities and record of service. After relocating to Hong Kong, she began on her academic path in 2005 as Honorary Assistant Professor. She currently holds a joint appointment in the Department of Family Medicine and Primary Care, and the Bau Institute of Medical and Health Sciences Education. She also serves as Assistant Dean (Learner Wellbeing) in the LKS Faculty of Medicine and Director of the Medical Ethics and Humanities Unit in the Clinical School of Medicine. Julie teaches medical students across all six years of the MBBS programme in her own discipline as well as in professionalism and medical humanities. Her research interests derive from her teaching and lie in curriculum development, professionalism, and doctor and student wellbeing. In recognition of her work in medical education, she was the recipient of a Faculty Teaching Medal (2012), two University Outstanding Teaching Awards (Team, 2013) (Individual, 2016) and a Teaching Innovation Award (Team, 2019) from The University of Hong Kong.