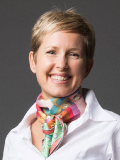 Medical Ethics and Humanities Unit
Department of Family Medicine and Primary Care
Dr Nicolette Ray qualified as a doctor at King's College, London, where she also intercalated in nutrition, gaining a 1st class degree. After qualifying, she continued to train as a Family Medicine doctor in London, before working in both the UK NHS and the private sector.
Nicolette moved to Hong Kong in 2010 and has been teaching at the University of Hong Kong as an Honorary Assistant Professor for several years. She took up a joint lecturer position in both the Department of Family Medicine and Primary care and the Department of Medical Ethics and Humanities in 2019.
Nicolette has always been interested in wellbeing and the holistic care of patients. More recently she has developed an interest in spiritual health and has trained as a Reiki Master.