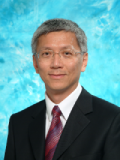 Principal Clinical Practitioner and Chief of Postgraduate Education, Department of Family Medicine Primary Care
MBBS (Western Australia), Master of Family Medicine (Monash), PhD (Sydney), MD (Hong Kong), FRACGP, FHKAM (Family Medicine), FRCP (Glas).
Dr Lam is currently a Principal Clinical Practitioner in the Department of Family Medicine and Primary Care. He joined the then Family Medicine Unit in 1992 and went through the ranks of Lecturer, Senior Lecturer, Clinical Associate Professor and Clinical Professor.
He believes that every citizen in the world should have access to a well-trained family doctor whenever s/he needs to. This is what drives him in his work because there is still a relative shortage of qualified family doctors in most communities. His work at World Health Organization for ICD-11 PHC and former editorship with Asia Pacific Family Medicine and The Hong Kong Practitioner has been his major effort towards this end.
He is also very interested in medical education and in particular scholarship of teaching. He takes great effort to help his students learn which is his main emphasis, rather than how much he teaches. His Faculty Teaching Award in 2001 and the prestigious University Teaching Fellowship in 2003 were recognitions of his teaching achievements.
He also believes medical education must be continued into postgraduate years. He has therefore initiated and developed some of the most successful postgraduate academic courses in Hong Kong.