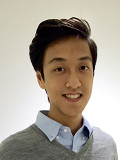 PhD Candidate, Department of Family medicine and Primary Care, HKU
Master of Nutrition and Dietetics (Flinders University)
Bachelor of Science (Food & Nutritional Science) (University of Hong Kong)

Principle Supervisor: Professor Cindy L.K. LAM
Co-supervisor: Dr. Mandy Ho and Dr. Daniel Fong (School of Nursing)
Will is an Accredited Practising Dietitian who obtained his Master's Degree of Nutrition and Dietetics from Flinders University, Australia. He has worked as a research assistant in the Department of Family Medicine and Primary Care, the University of Hong Kong from 2020 to 2022. His research interests are early detection and lifestyle interventions to prevent diabetes among high-risks individuals in Hong Kong.
Publications
Cheng, W.H.G., Mi, Y., Dong, W., Tse, E.T.Y., Wong, C.K.H., Bedford, L.E., Lam, C.L.K. (2023). Non-Laboratory-Based Risk Prediction Tools for Undiagnosed Pre-Diabetes: A Systematic Review. Diagnostics. 13(7), 1294.
Ng, A.P.P., Liu, K.S.N., Cheng, W.H.G., Wong, C.K.H., Cheng, J.K.Y., Lam, J.S.M., ... & Lam, C.L.K. (2022). Feasibility and acceptability of electronic EQ-5D-5L for routine measurement of HRQOL in patients with chronic musculoskeletal problems in Hong Kong primary care. Health and Quality of Life Outcomes, 20(1), 1-14.
Wan, E.Y.F., Fung, W.T., Yu, E.Y.T., Cheng, W.H.G., Chan, K.S., Wang, Y., ... & Lam, C.L.K. (2022). Association of genetic variants related to combined exposure to higher BMI and waist-to-hip ratio on lifelong cardiovascular risk in UK Biobank. Public Health Nutrition, 26(2), 416-424.
Chan, K.S., Wan, E.Y.F., Chin, W.Y., Yu, E.Y.T., Mak, I.L., Cheng, W.H.G., ... & Lam, C.L.K. (2022). Association Between Team-Based Continuity of Care and Risk of Cardiovascular Diseases Among Patients With Diabetes: A Retrospective Cohort Study. Diabetes Care, 45(5), 1162-1169.
Wan, E.Y.F., Li, Z., Sun, K. S., Chan, K.H.Y., Cheng, W.H.G., Chen, J.Y., ... & Lam, C.L.K. (2022). Identifying and articulating the student experience in the Intercalated Enrichment Year. BMC Medical Education, 22(1), 246.
Dong, W., Cheng, W.H.G., Tse, E.T.Y., Mi, Y., Wong, C.K.H., Tang, E.H.M., ... & Lam, C.L.K. (2022). Protocol: Development and validation of a diabetes mellitus and prediabetes risk prediction function for case finding in primary care in Hong Kong: a cross-sectional study and a prospective study protocol paper. BMJ Open, 12(5).
Chan, K.S., Wan, E.Y.F., Chin, W.Y., Cheng, W.H.G., Ho, M.K., Yu, E.Y.T., & Lam, C.L.K. (2021). Effects of continuity of care on health outcomes among patients with diabetes mellitus and/or hypertension: a systematic review. BMC family practice, 22(1), 1-13.
Sobko, T., Liang, S., Cheng W.H.G., & Tun, H. M. (2020). Impact of outdoor nature-related activities on gut microbiota, fecal serotonin, and perceived stress in preschool children: the Play&Grow randomized controlled trial. Scientific reports, 10(1), 1-12.
Sobko T., Brown G., & Cheng W.H.G. (2020). Does connectedness to nature improve the eating behaviours of pre-schoolers? Emerging evidence from the Play&Grow randomised controlled trial in Hong Kong. Appetite, 104781.