Postgraduate Courses
The education of the doctor which goes on after he has his degree is, after all,
the most important part of his education.
John Shaw Billings
With a vision to provide high quality continuing medical education for healthcare practitioners to upgrade their knowledge and skills in areas relating to their day-to-day practice, our Department has launched several pioneering postgraduate courses attended by over 1,500 doctors since 2000. Not only do our courses aim to provide practical and updated medical knowledge and skills, but they also emphasise how to help practitioners understand their patients better and improve their practice which in turn enhances treatment outcomes.
To achieve these, we have adopted an inter-disciplinary approach to conducting our courses which draws together the expertise of different specialties including family physicians, geriatricians, psychiatrists, clinical psychologists and dermatologists. Moreover, by substituting traditional campus-based group teaching with an individual self-study/distance learning component as well as interactive seminars, workshops, an electronic forum and small-group clinical teaching at various districts in Hong Kong, we hope this allows flexibility and maximise opportunities for students to engage in reflective thinking about past clinical experiences and also to expand their horizons towards new frontiers.
Our team is committed to offering the best and most up-to-date postgraduate courses that meet the training needs of primary care doctors and doctors of different specialties including Chinese medicine practitioners and healthcare professionals.
By browsing this website, you may find updated information on the content, dates and development of our postgraduate courses. There are links to areas relevant to your professional development and useful references, as well as application forms to be downloaded for the course/seminar that you are interested in.
Admissions
Enrolment of the following Course for healthcare professionals (western doctors, Chinese medicine practitioners, nurses, physiotherapists) as well as LMC candidates is now OPEN.
Certificate Course in Clinical Dermatology
Fees
| | |
| --- | --- |
| Tuition fee - Full course | $5,000 |
| Spot admission | $700 for each seminar |
Application Procedures
Payment Method
Please complete and send the application form together with the appropriate tuition fee by crossed cheque (payable to 'The University of Hong Kong') by post to the Department of Family Medicine and Primary Care, The University of Hong Kong, 3/F Ap Lei Chau Clinic, 161 Main Street, Ap Lei Chau, HK.
Places are limited and will be allocated on a first come first served basis. Delay in submitting the cheque payment will slow down the processing time of your application. Confirmation of registration will be notified in writing. Fees are not refundable, except in the event that the Course is over-subscribed.
Archive / Photos
Memorandum of Understanding (MOU) for Conjoint Clinical Examination
The Signing of the Memorandum of Understanding between The University of Hong Kong and The Royal College Of Physicians And Surgeons of Glasgow (UK) (held in LKS Faculty of Medicine Building, The University of Hong Kong, 9 May 2008)
The Memorandum of Understanding (MOU) laid out the agreement and academic arrangement of the First Conjoint Clinical Examination for the Postgraduate Diploma in Community Geriatrics (PDCG) of the HKU, and the Diploma in Geriatric Medicine (DGM) of the RCPSG. The signing of the MOU signified the success of our long-time collaboration with many experienced Geriatricians and the medical community in providing quality postgraduate education in geriatric medicine and our striving for high standards, as well as international recognition. Starting from April 2014 onwards, the RCPSG has discontinued their provision of a Diploma in Geriatric Medicine (DGM). Consequently, the Department of Family Medicine and Primary Care will no longer provide a conjoint clinical examination in geriatric medicine.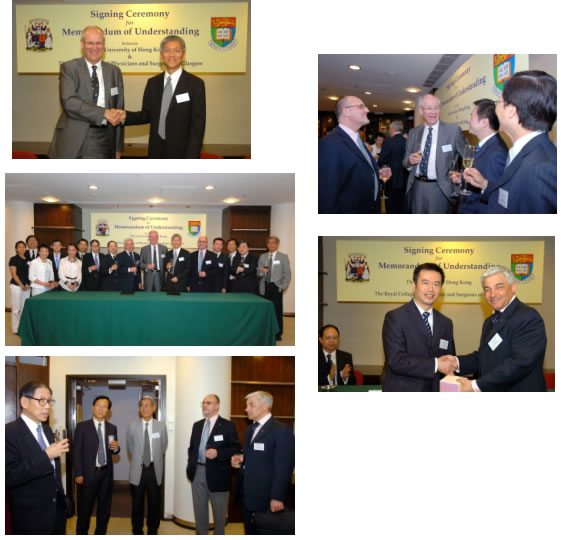 Photos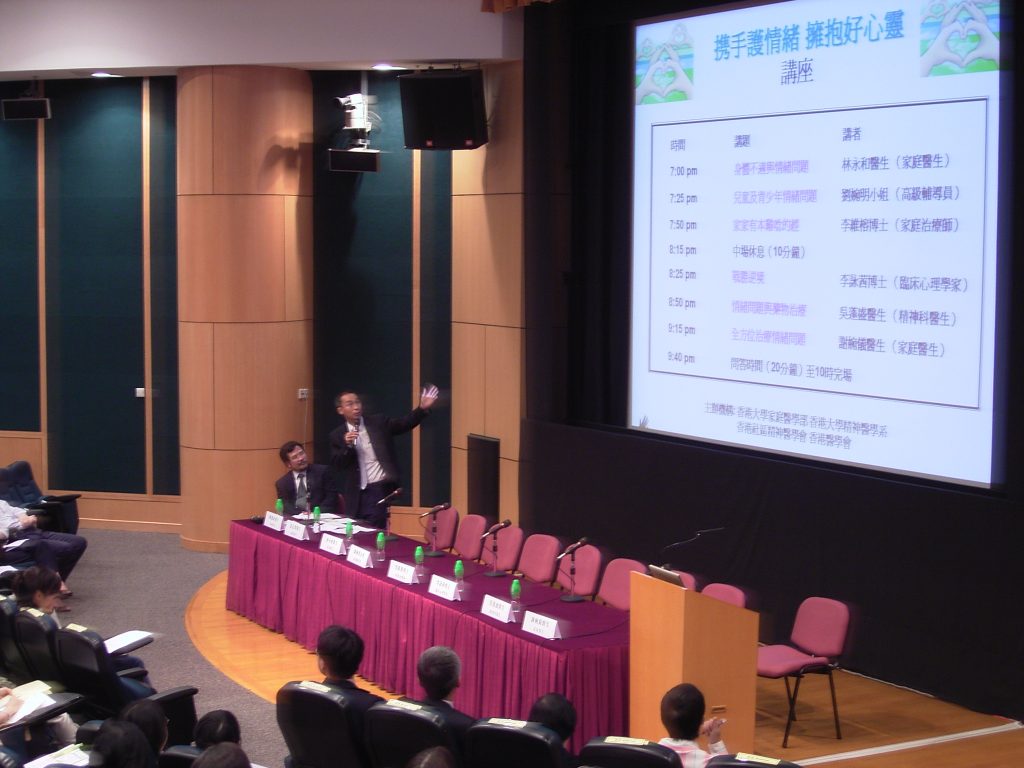 Public lecture titled 'Enriching your life with mental health professionals in the community' - IFCPM 2006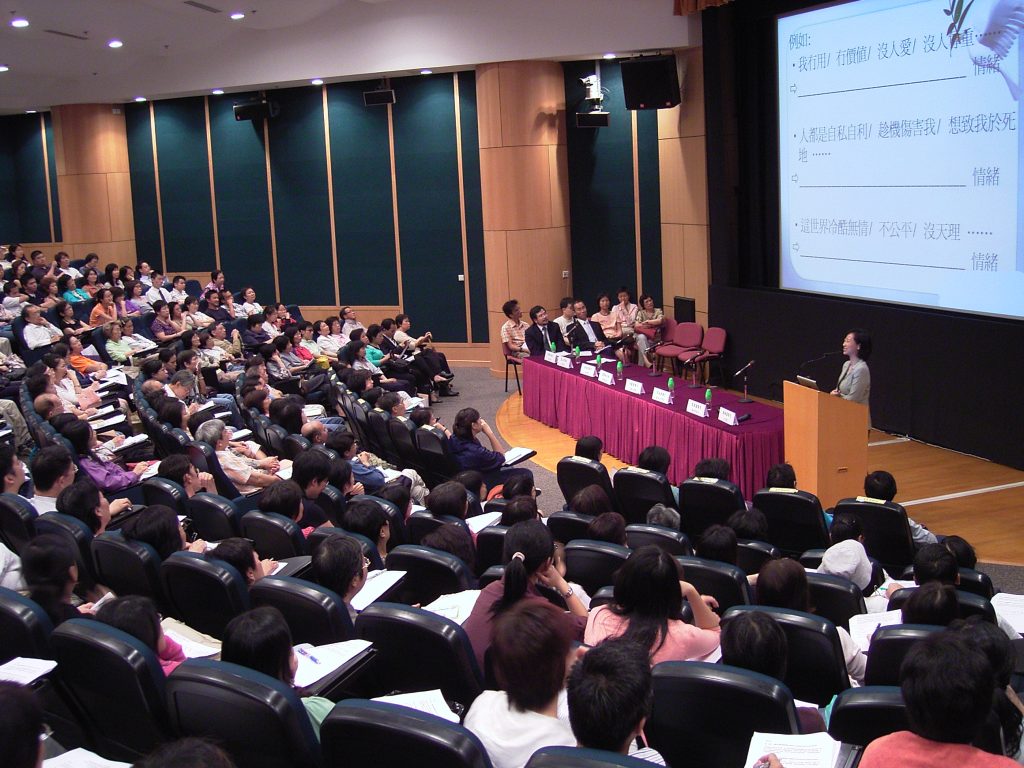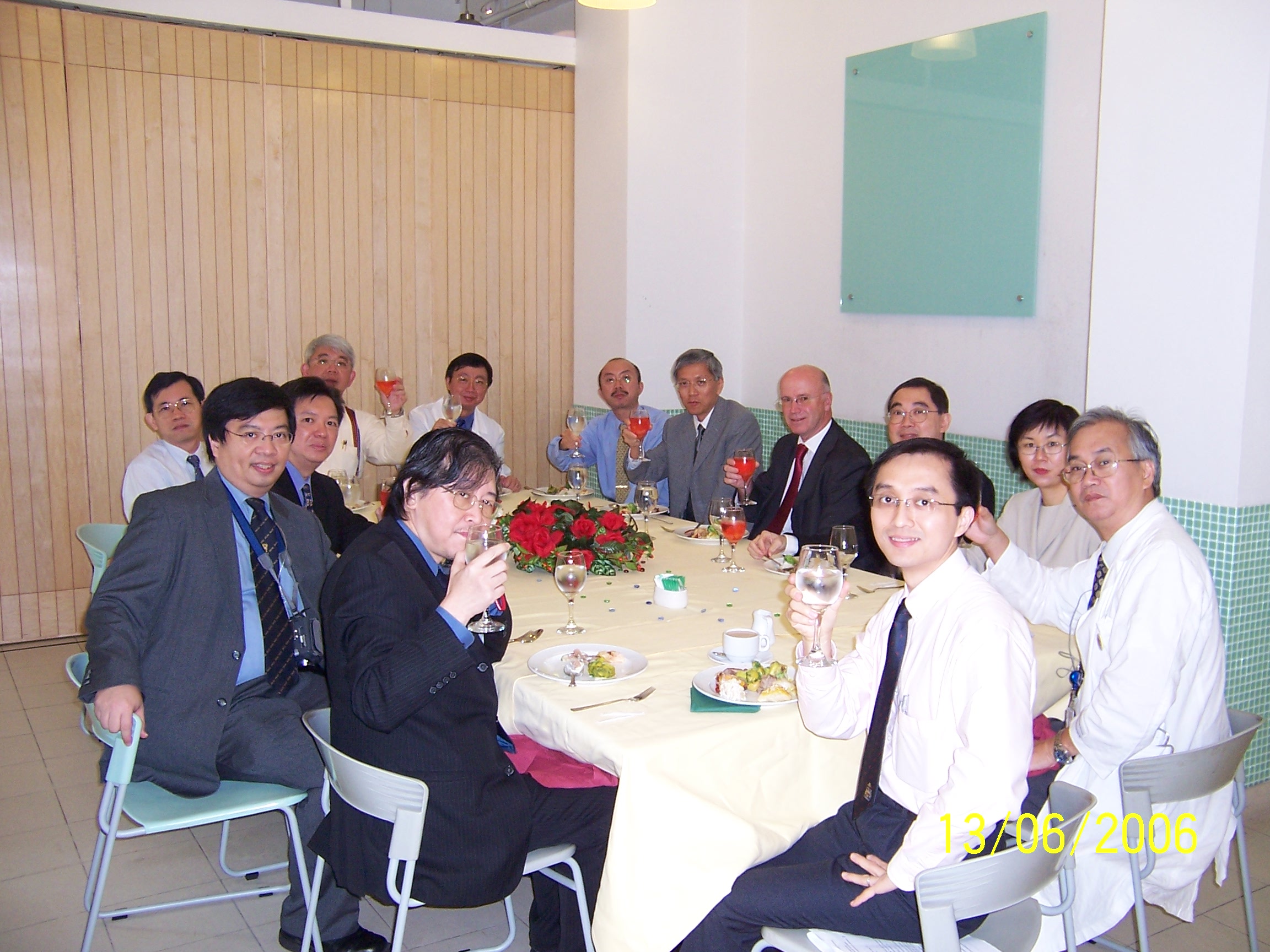 Examiners of Postgraduate Diploma in Community Geriatrics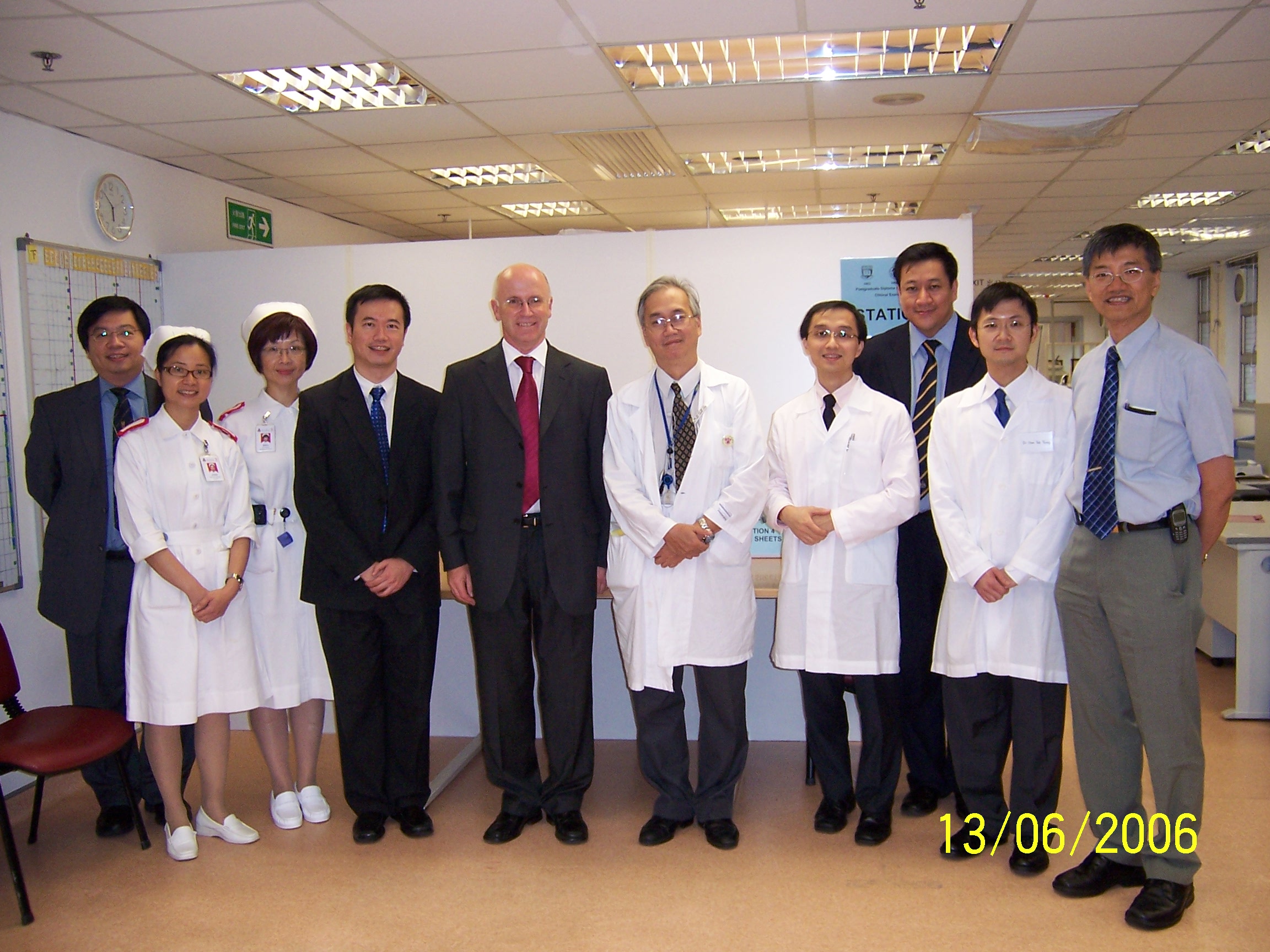 Local and External Examiners at PDCG Clinical Examination held at Kwong Wah Hospital 2006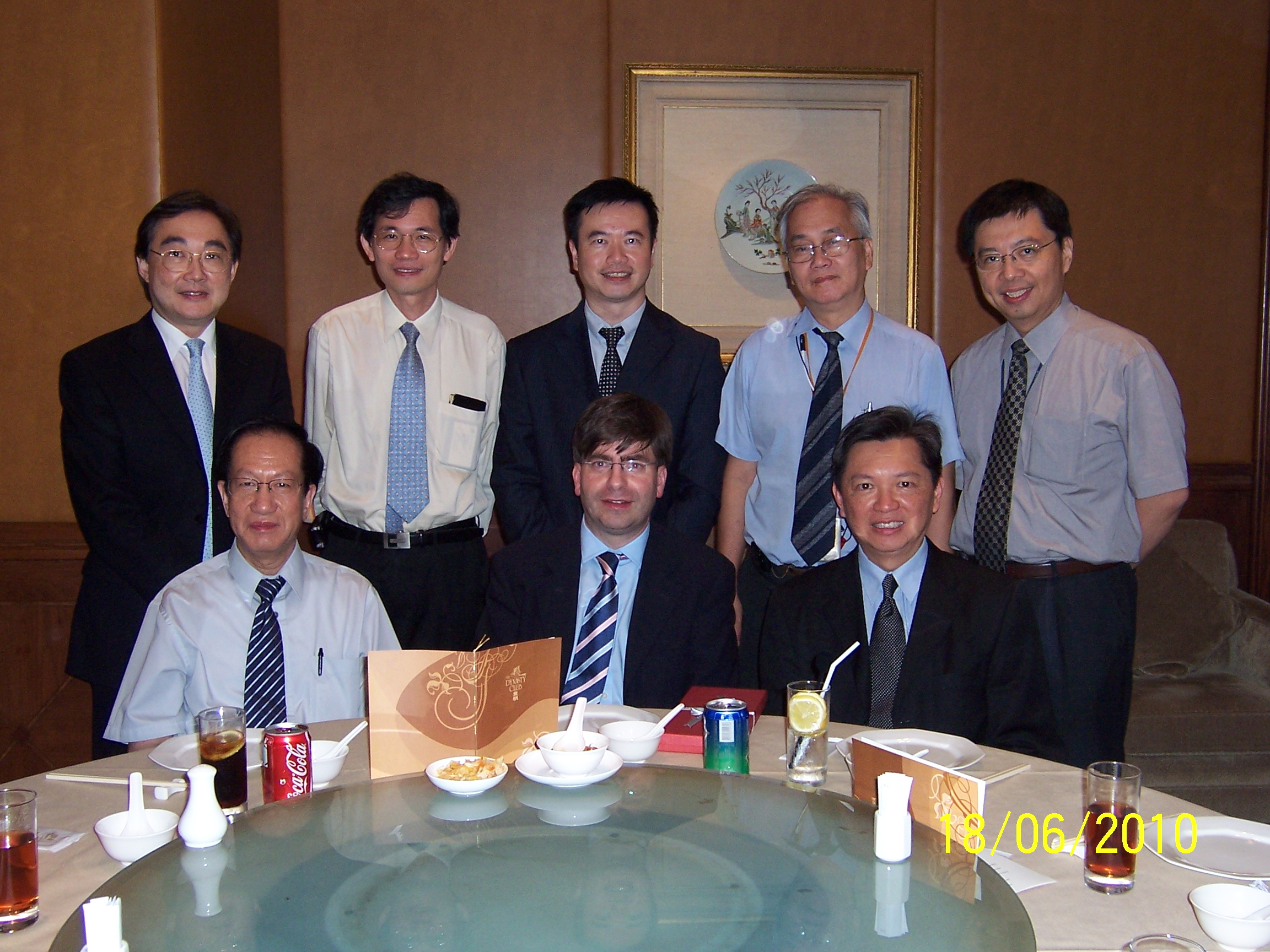 Examiners dinner - Postgraduate Diploma in Community Geriatrics
IFCPM Press Conference 2006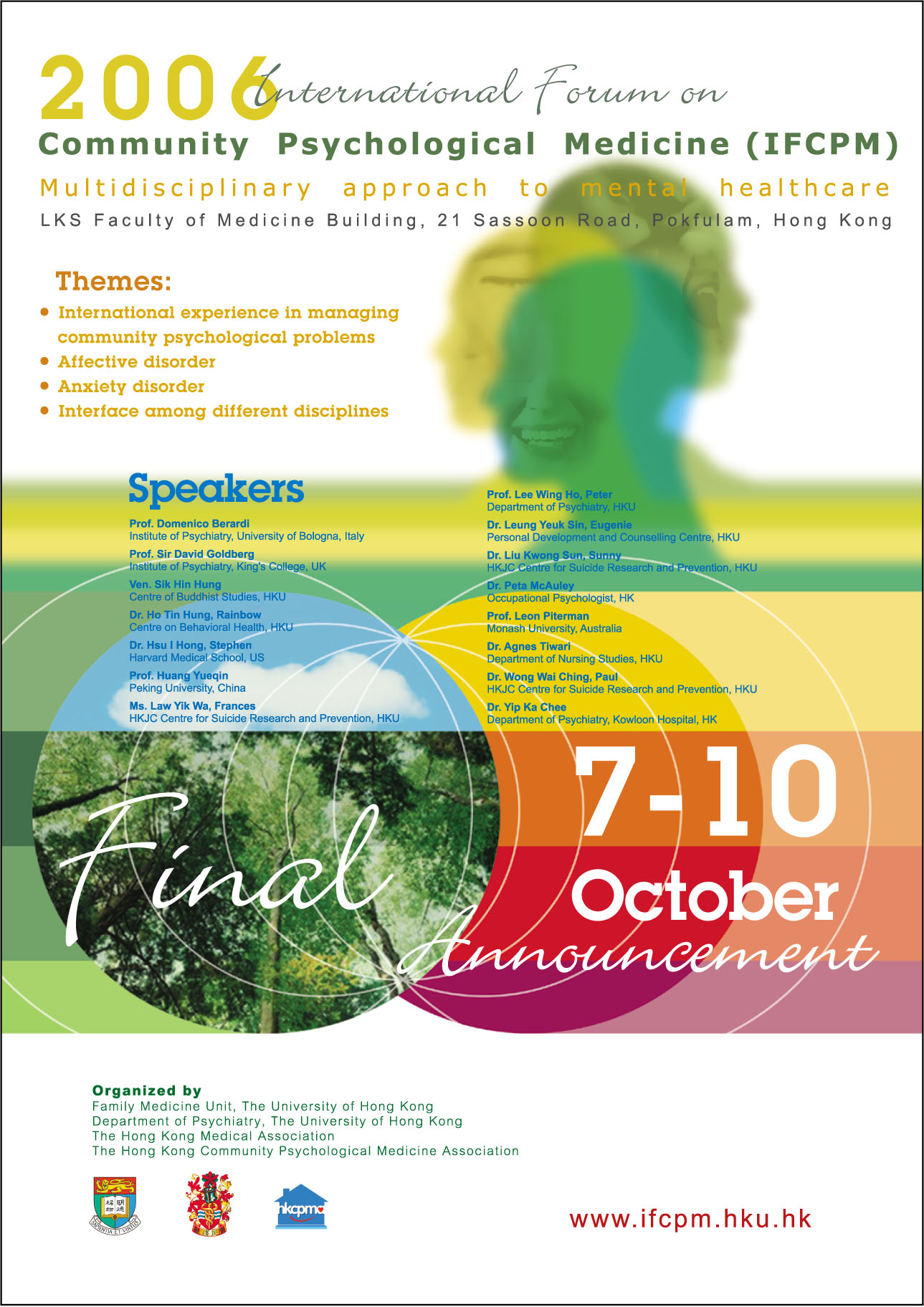 IFCPM Poster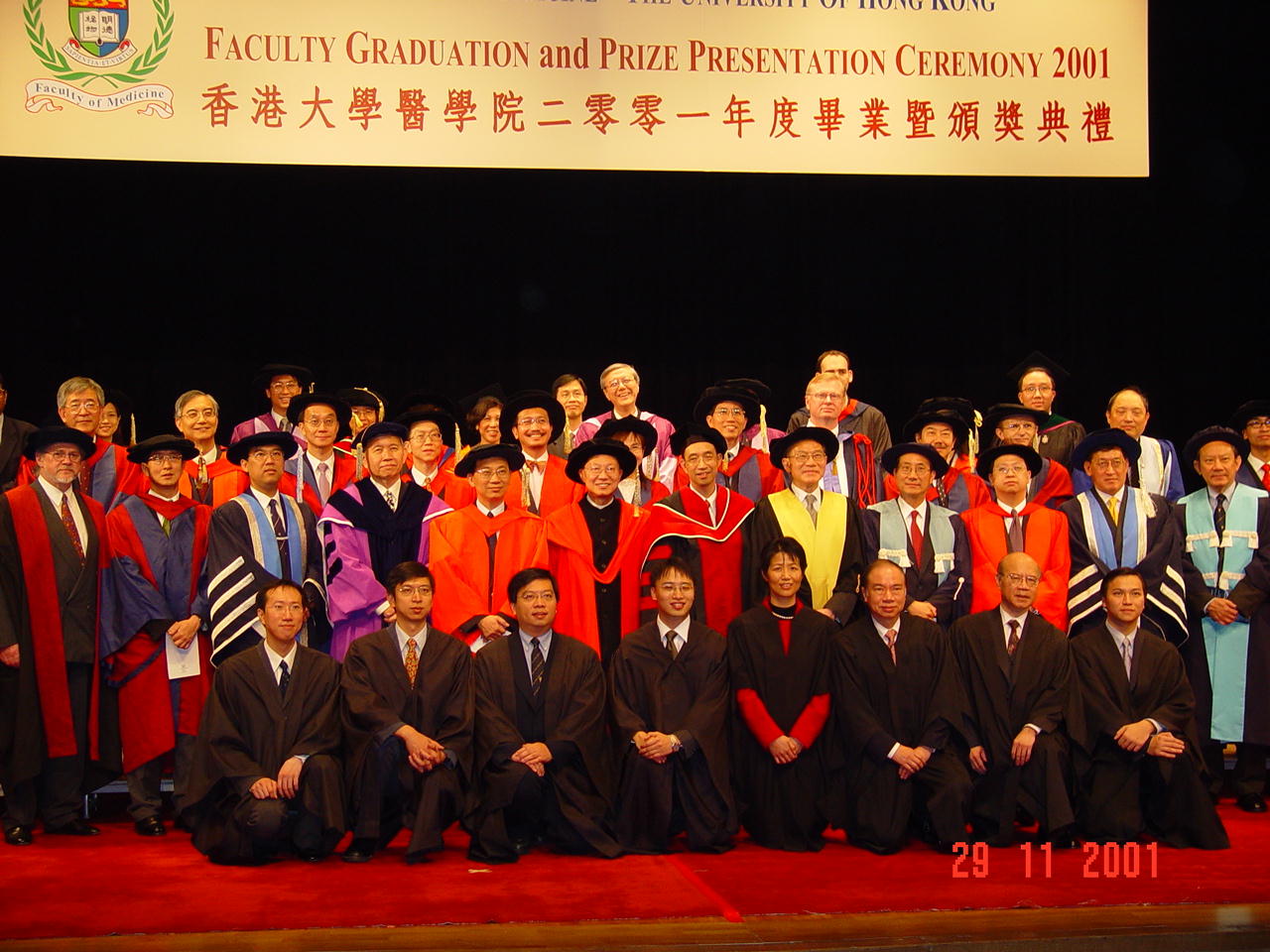 1st batch of Postgraduate Diploma in Community Geriatrics graduates
IFCPM
Contact Us
Contact person: Ms Tang
Tel: (852) 2518 5682
Fax: (852) 2814 7475
Email: fmpg@hku.hk
Address: 3/F, Ap Lei Chau Clinic, 161 Main Street, Ap Lei Chau, Hong Kong